Welcome on official webpage of the I International Tango Festival in Świnoujście!
Join Us!
We cordially invite all tango lovers to a unique event. For the first time thanks to 3 friends and tango enthusiasts – Świnoujście will turn into the Polish capital of Argentine Tango for one weekend.
Academy of Tango Adrian and Dorota Grygier together with the Municipality of Świnoujście and the Municipal House of Culture. We offer beginner tangado lessons, workshops at the highest level for addicts;), a beautiful tango concert, boat trip, flashmobs in great locations and of course elegant Milongas (afternoon and evening) with shows of champions and live music!
All weekend music straight from Buenos Aires will reign over the Baltic 🙂
Thanks to the financial support of the Świnoujście Commune, most of the proposals are completely free 🙂
It's the perfect way to end the summer hot!
---
Honorary Patronage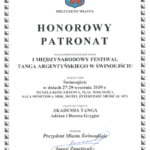 We are pleased to announce that the 1st International Tango Festival in Świnoujście has been granted the Honorary Patronage of the President of Świnoujście – Janusz Żmurkiewicz.
Thank you very much!